A recent innovation by KLB Group is the mobile Industrial Dock Ramp for loading/unloading lorries and containers, KLB Ramp© . With a capacity of 7 to 16 tons, made by certified steel and customized according to the customer's demands, the mobile ramp is used to load/unload containers and truck trailers without the need of permanent docking bays. KLB Ramp© can be attached to the rear side of a truck and offers access to the container or the trailer. The loading/unloading process can be performed by one forklift operator only. Businesses that need to handle a few loads per day, easily conclude that a mobile KLB Ramp© is far more effective than a permanent dock point.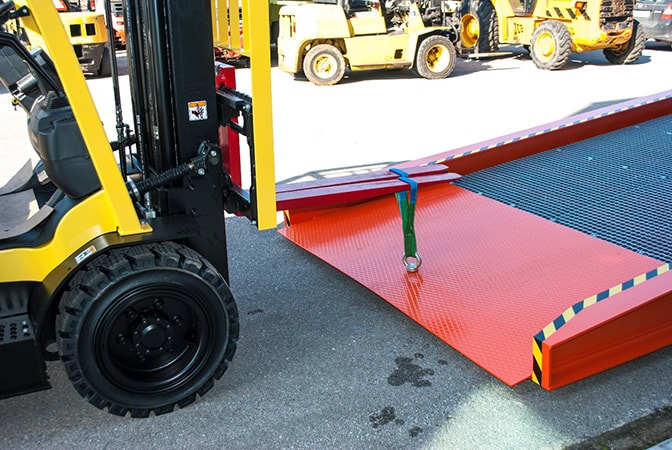 KLB Group's ramp can be used either inside or outside the premises saving this way the construction cost of an expensive concrete dock point. It is ideal for short term usage during high seasons or temporary facilities.
What's more, the ramps incorporate a spiral ring – tow hook that allows easy movement to a new spot, if needed, with a use of a forklift. Its manoeuvring ability renders it ideal for restricted spaces or fast changing working demands and operations.
Offered with mechanical/manual lift system or, optionally, electric. The wheels are made of Vulkollan for soft movement. Its floor is made of a grid of steel blades that guarantees perfect  friction. The safety chain guarantees any accidental shift of the truck. Optionally, it is possible that the customer can add safety banisters, fire extinguisher rack, immobilization wedges for the truck.
The mobile industrial KLB Ramp© is certified with CE, and is practical, economic and trustworthy. These are the reasons why it is so successful in the Greek market and not only, as long as KLB Ramp© is exported in Germany, Italy, Bulgaria and soon to other countries as well.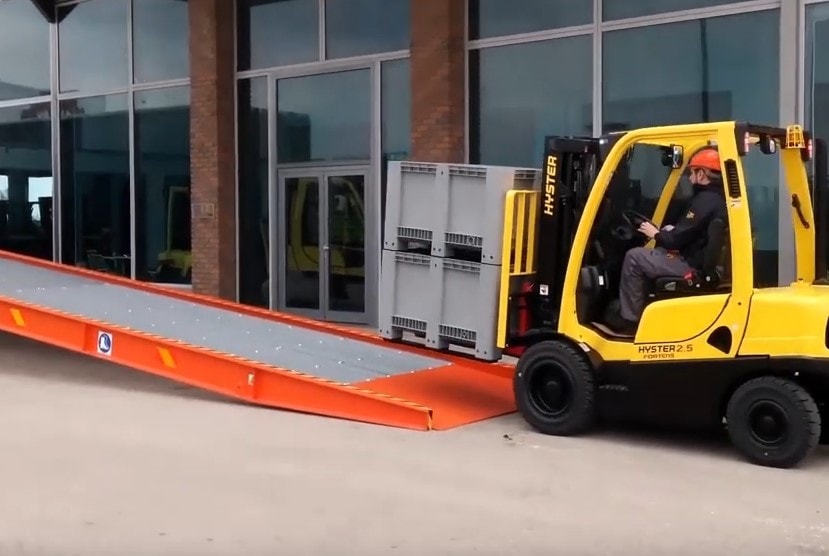 KLB Ramp© Advantages
Fast and safe loading/unloading without the need for permanent docking bays
Loading/unloading with one forklift operator
Usage inside/outside the facilities
Ideal for restricted spaces
Easy maintenance
Heavy-duty construction
CE certified